Domestic Films                   Seoul         Nationwide       Release      Weeks
1.  "Friend"                       2,579,950       8,134,500         Mar 31        15
2.  "My Sassy Girl"                1,765,100       4,852,845         Jul 27        10
3.  "Kick the Moon"                1,605,200       4,353,800         Jun 23        10
4.  "My Wife is a Gangster"        1,466,400       5,180,900         Sep 28         8
5.  "Hi, Dharma"                   1,304,200       3,746,000         Nov 7          8
6.  "My Boss, My Hero"             1,229,100       3,302,000         Dec 8*         9
7.  "Guns & Talks"                   896,500       2,227,000         Oct 12         7
8.  "Musa"                           873,600       2,067,100         Sep 7          6
9.  "Volcano High"                   593,200       1,687,800         Dec 8*         5
10. "Bungee Jumping Of Their Own"    507,400         947,000         Feb 3         11


    Overall Figures                  Seoul         Nationwide       Release      Weeks
1.  "Friend" (Korea)               2,579,950       8,134,500         Mar 31        15
2.  "My Sassy Girl" (Korea)        1,765,100       4,852,845         Jul 27        10
3.  "Harry Potter..." (U.S.)       1,672,000       4,030,000         Dec 14*        8
4.  "Kick the Moon" (Korea)        1,605,200       4,353,800         Jun 23        10
5.  "My Wife is a Gangster"(Korea) 1,466,400       5,180,900         Sep 28         8
6.  "Hi, Dharma" (Korea)           1,304,200       3,746,000         Nov 7          8
7.  "My Boss, My Hero" (Korea)     1,229,100       3,302,000         Dec 8*         9
8.  "Shrek" (U.S.)                 1,123,200       2,344,700         Jul 06         6
9.  "Pearl Harbor" (U.S.)          1,081,627       2,261,100         Jun 2          7
10. "The Mummy Returns" (U.S.)       954,700       2,341,800         Jun 16         7


Seoul population: 10.32 million (75 theaters, 218 screens)
Nationwide population: 47.9 million (376 theaters, 720 screens)

Films in Korea are near-universally priced at 7000 won (~$5.60). The above figures indicate the cumulative number of tickets sold in each region. 'Weeks' indicates the number of weekends that a film placed in the top 10 performing films.

Totals for the starred films above include box-office from the year 2002 as well.

Sources: Korean Association of Film Art & Industry and the Korean Film Commission (KOFIC).


Friend
Director Kwak Kyung-taek
Apart from creating this testament to his friends' experiences, Kwak has also forged a vivid portrait of his native Pusan. From the heavily accented Kyongsang dialect to elegant shots of its harbor, Korea's second-largest city is presented here in rare beauty. Although made famous by its international film festival, Pusan has seldom been presented on screen, making this film feel even more like an urgent, exciting discovery.

I Wish I Had a Wife
Director Park Heung-shik
Sol plays a lovesick bank teller who can't get marriage off his mind. He records videos for his future wife, telling her how curious he is to find out who she will turn out to be. When he meets a former classmate (played by Jin Hee-kyung), he thinks he's finally found his match. Jeon, meanwhile, plays a teacher who works across the street from his bank. After a few accidental meetings, she works up the courage to ask him out, but is rudely rebuffed.

Tears
Director Im Sang-soo
Shot on digital video (mostly to reduce costs), Tears captures the gritty feel of its protagonists' lives. Ultimately, however, the film is less concerned with exposing the excesses of street life than in coaxing us to side with the teens, or at least see life from their point of view. Im tries hard to make his heroes seem human and to show us the insecurity behind their tough behavior. Shots of abusive parents or cruel employers remind us of the forces that have shaped these kids' lives.

Bungee Jumping of Their Own
Director Kim Dae-seung
The film opens in 1983, when university student In-woo becomes infatuated with a woman who shares his umbrella in a rainstorm. Their developing relationship is presented in fragments that highlight the awkwardness and humor of their situation, and yet the underlying seriousness of their feelings end up forming the crux of the story. After learning that In-woo must leave for his obligatory two-year service in the military, we jump 17 years into the future to find him as a high school teacher, married to another woman. His earlier insecurities appear to have vanished, and he commands the respect of his students for his passion and his willingness to stand up for their rights...

Nabi (The Butterfly)
Director Moon Seung-wook
Anna Kim is one of these travelers; the film charts her return to Korea after living in Germany most of her life. Rather than emphasize her search for the virus, the film concentrates on the relationship she develops with her guide -- a teenage girl -- and her driver. The time she spends with them changes her, leading her down paths she wasn't expecting.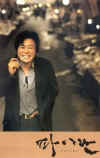 Failan
Director Song Hae-sung
Meanwhile her legal husband, a third-rate gangster played by Choi Min-shik, is embroiled in troubles of his own. He dreams of returning to his hometown, but feuds with fellow gang members as his life increasingly nears collapse. One day he receives a letter written in halting Korean from his wife, whom he has never met.

Kick the Moon
Director Kim Sang-jin
Perhaps the biggest difference between this film and its predecessor is in its setting. Attack the Gas Station made do with a remarkably limited set, while Kick the Moon sprawls amidst the rural city of Gyeongju, a popular tourist site and the old capital of the Shilla Dynasty. The expansive set gives the film a unique look, but at the same time makes for a somewhat chaotic viewing experience. Scores of characters add to this feeling, as if the plot had gone slightly out of control.

Hi, Dharma
Director Park Chul-gwan
Many of Korea's gangster films claim to be critiques of organized crime, playfully poking fun at their leading characters' egos or lack of intelligence, but in truth most of them glorify the profession. Polls have shown that many schoolchildren have developed highly positive attitudes towards organized crime over the past couple years, presumably affected by popular media. One refreshing aspect of Hi, Dharma is the extent to which it tries to avoid this, providing solid entertainment while keeping the romanticism more or less in check.

Volcano High
Director Kim Tae-kyun
Set during an unspecified time frame which mixes bits of the past and future, Volcano High tells the story of a high school student with intense supernatural powers. Able to lift objects and hurl them through space with his mind, he nonetheless has problems with control, which gets him expelled from eight successive high schools. When he arrives at his ninth, a place filled with other students much like him, he is desperate to avoid expulsion, but harassment from other students (and teachers) makes his internal struggle more and more difficult to bear.

Take Care of My Cat
Director Jeong Jae-eun.
The film tells the story of five women who are just beginning their lives after graduating from high school. Each of the women face different challenges, be it family or money, but they are united in their need to try new things and to be taken seriously. The plot traces several stories at once, but highlights the conflicts its protagonists face both among themselves and with a society that largely ignores them.

My Sassy Girl
Director Kwak Jae-yong
Comedies have dominated the summer and early fall of 2001, with a trio of smash hits that have easily outgrossed every Hollywood film to get a release. Among these, my personal favorite is My Sassy Girl, a movie based on a series of real-life incidents published on the internet in serial form. Much of the film is structured around the bizarre antics of Kyun-woo's newfound girlfriend. After she passes out yet again, Kyun-woo looks at her blissful face and promises to himself that he will save her, and right whatever it is that troubles her. This proves to be much more of a challenge than he expects.

Musa
Director in Kim Sung-soo
Musa is darker in mood than most blockbusters, with a brutality that leaves little room for romanticism. The director has said that he tried to present his story in the most realistic way possible. This can be seen in the film's impressive fight scenes, which leave the viewer feeling like an unlucky warrior caught amidst the battle. Apart from the disorienting rush of noise and images, the violence is also startling: severed limbs and arrows shot through victim's necks drive home the cruelty of battle.

Sorum
Director Yoon Jong-chan
Despite being a somewhat grim movie, visually Sorum is one of the most gorgeous films of the year. The apartment building where much of the story takes place is so dilapidated and grim that it resembles a work of art. Yoon also put great care into his low-key lighting, creating subtle colors and shadows which are beautiful to watch.

One Fine Spring Day
Director Hur Jin-ho
One thing that makes this film particularly special is its use of sound. The characters themselves are drawn together by sounds (Sang-woo is a recording engineer, Eun-su is a radio producer), but everyday sounds, both man-made and natural, make up a crucial aspect of the film's style. When combined with precise and at times striking camerawork, the film is able to create moments that are both solemn and beautiful to see.