Domestic Films                   Tickets       Release      Weeks
1.  "Joint Security Area"          2,509,320        Sep 9         20*
2.  "The Foul King"                  817,870        Feb 4         12
3.  "Bi-Chun-Moo"                    730,300        Jul 1          7
4.  "The Legend of Gingko"           637,000        Nov 11         6
5.  "Libera Me"                      542,000        Nov 11         6
6.  "A Nightmare"                    341,796        Jul 29         5
7.  "Ditto"                          326,000        May 27        10
8.  "Lies"                           320,000        Jan 8          5
9.  "Peppermint Candy"               311,000        Jan 1         11
10. "Jakarta"                        300,000        Dec 30         5*



    Overall Figures                  Tickets       Release      Weeks
1.  "Joint Security Area" (Korea)  2,530,000        Sep 9         18*
2.  "Mission: Impossible 2" (U.S.) 1,130,000        Jun 17         8
3.  "Gladiator" (U.S.)             1,127,000        Jun 3         13
4.  "The Foul King" (Korea)          817,870        Feb 4         12
5.  "Bi-Chun-Moo" (Korea)            730,300        Jul 1          7
6.  "The Legend of Gingko" (Korea)   637,000        Nov 11         6
7.  "Dinosaur" (U.S.)                619,000        July 15        6
8.  "The Perfect Storm" (U.S.)       572,000        Jul 29         5
9.  "Libera Me" (Korea)              542,000        Nov 11         6
10. "Charlie's Angels" (U.S.)        487,000        Nov 25         5


Films in Korea are universally priced at 6000 won (~$5.00). The figures above represent the total number of tickets sold for each film in Seoul only. An asterisk indicates that the figures include sales in 2001.

The lack of a centralized ticketing system makes it extremely difficult to accurately determine box-office figures for any given film, so the above figures are approximate. Updated with year-end figures from the Korean Film Commission (KOFIC).

Source: Cine21 Magazine weekly listings.


Joint Security Area
Director Park Chan-wook
JSA is described as a mystery/ human drama, and its structure is clearly divided into two parts: the investigation by Korean-Swiss Major Sophie Jean, and an extended flashback to the incident between the soldiers. I think most would agree that the film's biggest strength is the flashback, with actors Song Kang-ho and Lee Byung-heon excelling in their roles. This part of the film also features some breathtaking cinematography for the scenes that take place along the Demilitarized Zone.

Lies
Director Jang Sun-woo
The film itself left many disappointed. Jang has established such a high standard in his works of the past decade that this rather simple tale of a sado-masochistic affair left some of his fans perplexed. Some of Jang's old themes are revisited in this work, namely the complex and at times savage power relations between men and women (cf. the husband and wife in The Lovers of Woomook-baemi, or the writer and his lover in To You, From Me), but on the whole it seemed to devote more energy to pushing buttons, setting up scenes that were certain to shock and infuriate the more conservative of its viewers.

The Foul King
Director Kim Jee-woon
Dong-ho is a shy banker who takes up pro wrestling without telling his father. After the repeated abuse leveled on him by his manic, power-obsessed bank manager, he hopes to find in wrestling both a space free of hierarchy and a means of escaping the manager's headlocks. In the course of his training he practices his moves and struggles to attain the self-confidence to deal with his personal and professional life. Eventually, however, he realizes that he must confront his ringside identity as the masked Foul King.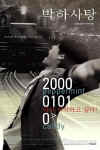 Peppermint Candy
Director Lee Chang-dong
Peppermint Candy is the personal history of a man whose troubled experiences leave him greatly disturbed. The film asks of its viewers a fair amount of concentration and emotional energy; some scenes are upsetting, while others give us mere hints of beauty: the undeveloped potential that lies dormant within our hero.

Ditto
Director Kim Jung-kwon
It seems a large number of Korean films contain borders that can't be crossed, whether drawn by time, crossed loyalties, strict social codes, or distance. No doubt this feeling holds great relevance for a nation that was divided in two by foreign powers, and that contains millions of people who are still prevented from seeing their families. These days as a thaw opens up on the Korean peninsula, visitors to the North describe their experience as like a trip back in time to the Korea of the 1950's or 60's. Ditto is constructed around a supernatural event, but if Korea should ever reunify, perhaps the situations portrayed in this film will be echoed in reality.

Bichunmoo
Director Kim Young-jun
Part of the disappointment came from fans of the original comic, an epic work that spans six volumes. Kim Hye-rin's story and the complexities of her characters were highly simplified in the film version, provoking the kind of ire felt in the U.S. by Anne Rice fans upon the release of Interview With the Vampire.

Libera Me
Director Yang Yoon-ho Actors Choi Min-soo, Yoo Ji-tae
The story centers around a mentally-unbalanced arsonist and the firefighters who struggle to stop him. Although thoroughly conventional in its subject matter, the film manages to feel fresh through skilled direction and strong acting from its all-star cast. Special praise goes to leads , and Cha Seung-won who complement each other well (the group also forms perhaps the best-looking acting trio in recent memory). Among a strong cast of supporting characters, Park Sang-myun (The Foul King) stands out and Kim Kyu-ri (Whispering Corridors) rescues the film from being a thoroughly male-centered affair, even if her character does seem to serve no purpose.

The Isle
Director Kim Ki-duk
The movie takes place in a rural fishing area, where a groundskeeper tends after a set of floating cottages, selling her body to the visiting fishermen. Indeed, the setting is one of the most memorable aspects of the film: misty and remote, as well as being the perfect male fantasy. Into this environment comes an ex-cop, on the run from the law after killing his lover. The groundskeeper, who speaks not a word throughout the film (although she does make telephone calls offscreen), becomes fascinated with this man, and the two embark on an intense and hurtful relationship.