KORAN FILMS
Korean Movies will Playing in Seattle International Film Festival
Why don't you try all of nice movies. Have a fun.....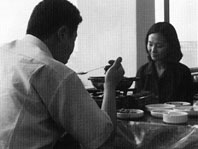 Camel(s)
In this astonishing demonstration that less is more, a couple--who may or may not be strangers--drives to a small seaside town. Over dinner, their conversation evolves from small talk into civilized flirting, and soon they are making love in a motel. A love story in miniature, witnessed by a camera eye that honors human privacy / intimacy, "Camel(s)" resonates with a remarkable richness of feeling and observation.camel(s)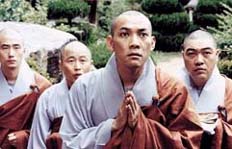 Hi, Dharma
After an ambush by a rival gang, four gangsters take refuge in a remote Buddhist monastery--and the stage is set for some seriously hilarious confrontations between peaceful monks and worldly goons. When the original bad guys show up, we see that Buddha's gang has mastered some wicked martial arts moves. A firing-on-all-cylinders comedy/action flick already in the works for a Tinseltown remake.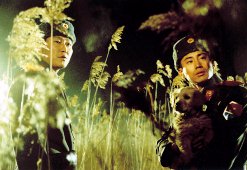 Joint Security Area
JSA is described as a mystery/ human drama, and its structure is clearly divided into two parts: the investigation by Korean-Swiss Major Sophie Jean, and an extended flashback to the incident between the soldiers. I think most would agree that the film's biggest strength is the flashback, with actors Song Kang-ho and Lee Byung-heon excelling in their roles. This part of the film also features some breathtaking cinematography for the scenes that take place along the Demilitarized Zone.
Sympathy for Mr. Vengeance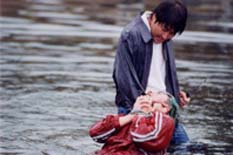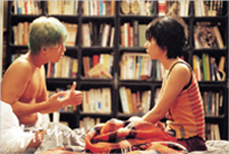 "Variety" on the new film from the director of "Joint Security Area" (SIFF 2001): "A child kidnapping goes horribly wrong, with escalating consequences on both sides, in this gripping psychodrama, marbled with blackly ironic humor…. establishes Park Chan-wook among the top ranks of Asian filmmakers. Stunning widescreen compositions combine with an elliptical off-kilter feel to make the film play as a kind of Asian Greek tragedy."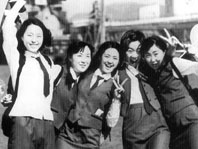 Take Care of My Cat
Five 20something girlfriends negotiate the divide between adolescence and maturity uncharted territory as they try to maneuver themselves into adulthood. The vain Hae-Ju, artistic Ji-Yeong, and rebellious Tae-Hee form the core of the group who all dream of life abroad and away from the grim reality of Inchon harbor.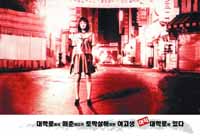 Teenage Hooker Became Killing Machine In Daehakroh
When a teacher discovers one of his teenaged student's streetwalking, he blackmails her into becoming his sex slave; when she becomes pregnant, the monster hires hitmen to off her, then slice and dice the corpse. A twisted Dr. Frankenstein fashions what's left into an unstoppable cyborg, and soon RoboHooker is hot on the trail of her killer! Wide-angle shots, gore, weird lighting, guns: "Teenage Hooker" has it all, and more.